The 2nin3kyaku Project (二人三脚プロジェクト pronounced "Nininsankyaku Project" lit. Three-legged Race Project) is an idol group project that serves as the junior group to 22/7 in 22/7 Ongaku no Jikan. The group consists of 11 members, each assigned to study under a respective 22/7 member.
Introduction
[
]
All members attend Rokubanchou Academy.
History
[
]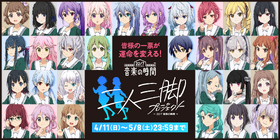 From April 11 to May 8, 2021, fans voted on selecting 11 out of 30 candidates to become juniors to the current 22/7 members within the game Ongaku no Jikan.
On May 23, the members that made it through were announced, as well as their names and their seiyuu.
On June 2, the pairings were decided through random selection by the 22/7 members themselves. This was done by picking blank envelopes containing the profile of a 2nin3kyaku member inside.
Discography
[
]
Gallery
[
]